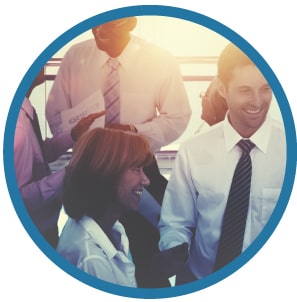 We specialize in providing top level management solutions to our government and commercial clients.
Our objective is to provide the most qualified personnel to meet our clients' needs and to manage each project to their complete satisfaction. We are committed to exceeding your expectations and will work diligently with you to ensure we meet all of your business needs. To meet this objective, ACCEL uses a quality control system that includes an ongoing analysis of our processes to verify that the service delivery meets our high standards and our clients' expectations. We solicit feedback from our clients and employees and integrate their comments into our quality review process.
ACCEL is able to meet and exceed all of your business needs. Some of our advantages include:
COMPETITIVE
RATES
A STRONG COMMITMENT
TO SERVICE
A SOLUTION-DRIVEN
PHILOSOPHY
ACCEL Corporation was formed with the belief that high quality professional services can be provided to clients at rates substantially lower than those of large companies that have dominated the market. ACCEL Corporation was founded by a management consultant with an educational background from Harvard Business School, Johns Hopkins University and Howard University.
CERTIFICATIONS
Certifications
• Certified Woman-Owned
• HUBZone
• Small Disadvantaged Business
Vehicles
• GSA Schedule: MAS
• GS-10F-0407-X
Primary NAICS
• 541611- Administrative Management
and General Management Consulting Services
Business NAICS
• 541612- Human Resources Consulting Services
• 541613- Marketing Consulting Services
• 541614- Process, Physical Distribution,
Logistics Consulting Services
• 541618- Other Management Consulting Services
• 541690- Other Scientific and Technical Consulting Services
• 541990- All Other Professional, Scientific,
and Technical Services
• 561110- Office Administrative Services
• 561210- Facilities Support Services
• 561320- Temporary Help Services
Technology NAICS
• 518210- Data Processing, Hosting, and Related Services
• 519190- All Other Information Services
• 541513- Computer Facilities Management Services
• 541519- Other Computer Related Services
---
8400 Corporate Drive, Suite 435, Landover, Maryland 20785.
(301) 563-3900 Copyright © 2021 ACCEL Corporation, All Rights Reserved
---